'World's highest polling centre' in India readies for vote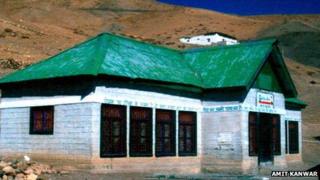 Hikkim, the "world's highest polling centre" is preparing for polls as the Indian state of Himachal Pradesh votes in the regional elections on Sunday.
Located at 15,000ft (4,572m) above sea level in the Himalayas, it has been described as the highest in the world by the election commission.
Voters from three villages, most of them Buddhists, will cast their ballots at the Hikkim polling centre.
Campaigning for the elections ended on Friday.
"The Hikkim polling station caters to the three villages of Komik, Langche and Hikkim and has 326 voters," said SS Guleria, senior official in Lahaul and Spiti district, which borders Tibet.
The polling station is in a remote area close to a Buddhist monastery on a windy hill top.
The villagers say that night temperatures in the area have already dropped to around -5C (23F).
The region remains cut off from the rest of the world for half the year due to heavy snow over the passes.
There is no phone connectivity in all three villages, but there is a school and a post-office.
The state government recently built a winding road to these hamlets.
"The election team is equipped with very high frequency communication sets, including satellite phones, to conduct polling on Sunday," Mr Guleria said.
Local residents say even though none of the candidates have stopped by to ask for their votes, they are still excited about the polls on Sunday.