Indian politician Yerram Naidu dies in car crash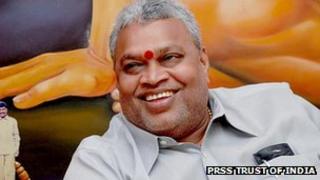 Senior Indian politician and former federal minister Y Yerram Naidu has died in a road accident, aged 55.
Mr Naidu, who belonged to the regional Telugu Desam party, was killed after the car he was travelling in crashed into an oil tanker in southern Andhra Pradesh state early on Friday.
He was returning from Srikakulam from Visakhapatnam, where he had gone to attend a marriage.
Mr Naidu was a four-time MP and had served as rural development minister.
He is survived by his wife and two children.
Reports say Mr Naidu's car hit an oil tanker near Ranasthalam in Srikakulam district, about 700km (436 miles) from the state capital, Hyderabad.
He was taken to hospital where doctors failed to resuscitate him.
Four others travelling with Mr Naidu were also injured and two of them were taken to the hospital, reports say.
India has the world's highest number of road deaths.
In 2011, 142,485 people were killed and 511,394 injured in motor vehicle accidents, according to the government.