Biswas: A pick of good reads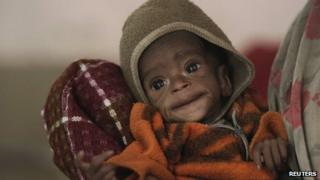 Why do the vast majority of Indians live in hunger? Why is Indian cricket at a crossroads? Is Gujarat's controversial chief minister Narendra Modi an authoritarian leader who has become bigger than his party?
Some of the more interesting reads I have come across recently try to answer these questions. I am not endorsing any views contained in the pieces.
REPUBLIC OF HUNGER
Why are most Indians, especially those who live in villages, suspended in a sort of "nutritional purgatory"? They eat enough to survive, but not enough to stay healthy, argues Mehul Srivastava, in Businessweek magazine
In a well-researched piece combining detail with empathy, Mr Srivastava returns the village in where his father grew up, some 800km (500 miles) south-east of the capital, Delhi, in Uttar Pradesh state. Auar is in the district of Pratapgarh, among the poorest 200 districts in the country.
More than five decades ago when his father was growing up in the village, India was running short of food and the US was shipping grain to the country. Things have vastly changed since then: fewer Indians go without food or die of starvation today.
But, as Mr Srivastava discovers, malnutrition continues to stalk the land and in many ways, Auar has both changed for the better and remained stranded in a difficult time. Residents use mobile phones and there is intermittent electricity. But residents defecate in the open, infants and teenagers carry tell-tale signs of of undernourishment and many elders have tuberculosis.
Mr Srivastava tracks down Ghanshyam, the son of a labourer, who had worked on a farm owned by his family. He's landless, afflicted with tuberculosis and struggles for work to feed a family of four.
"It had been a year, at least, since Ghanshyam last ate meat, eight months since he was able to catch fish in the village river, and six since he had an egg, he told me", writes the reporter.
STICKY WICKET
Don't get carried away by the promise of a feast of competitive Test cricket - the genuine article - in India this winter.
As Harsha Bhogle writes in a article in ESPN cricinfo, Indian cricket is at a crucial crossroads. India will be definitely looking to erase the memories of last year's nightmarish outings in England and Australia, where they lost eight Tests in a row.
But things are not going to be easy. "Established players are looking vulnerable, outstanding players are experiencing dusk and the new generation will have graduated from the school of shorter cricket," he writes.
Mr Bhogle is right. Rahul Dravid and VVS Laxman have retired. The invincible Sachin Tendulkar appears to be slowing down. Outside the ageing Zaheer Khan, the pace bowling bench appears thin. Outside the dazzling Virat Kohli, the younger batting talent has been worryingly inconsistent.
Mr Bhogle flags up some pertinent questions for the selectors, who have been found wanting so far in managing the transition and available talent.
Does India need to have a rethink about their redoubtable opening pair, Virender Sehwag and Gautam Gambhir, who seem to have lost their magic? What about life after Tendulkar - and Zaheer Khan, their finest pace bowler? (The fact that India has to persist with Ishant Sharma (133 wickets from 45 Tests at 37.87) "tells you how grim the situation is"). Also, is it time to rest captain Mahendra Singh Dhoni from the unrelenting pressures of the Twenty20 game?
"If India have to become No 1 again, they need to start looking at bowlers who can bowl fast and batsmen who are unafraid of bowlers who can bowl fast. The key people in that search are not so much the coach and the captain as the selectors, and the earlier they start taking hard decisions, the better off everyone will be," writes Bhogle. Are the selectors listening? They must remember that a thriving global cricket economy depends on a thriving Indian team.
'THE CULT OF THE GREAT LEADER'
Is Gujarat's controversial chief minister Narendra Modi perpetuating a personality cult?
Harish Khare, a veteran analyst of Indian politics and a former media advisor to the prime minister, believes so.
In a scathing article in The Hindu newspaper that will surely raise the hackles of Mr Modi's numerous admirers, Mr Khare writes that the naming of a TV channel after him is the latest example of a growing personality cult which flies against his party's avowed principles.
Most believe that Mr Modi, who belongs to the Hindu nationalist Bharatiya Janata Party (BJP) government, is poised to win a record fourth term in power in state elections which are due in December. He is also a divisive figure, loved and reviled in equal measure. His supporters believe he runs an efficient administration, and his critics accuse him of inaction in controlling the horrific anti-Muslim riots in the state in 2002. Mr Modi has always denied any wrongdoing.
Mr Khare writes that Mr Modi has made Gujarat his "'pocket-borough' ... he brooks no challenge to his leadership".
"Essentially Mr Modi and his authoritarian model of leadership are first and foremost a threat to the BJP ... The harsh reality is that the chief minister has garnered sufficient electoral, monetary, political and administrative clout to declare a kind of functional independence from the national leadership and its legitimate control; rather, important central leaders are dependent on him to get into the national legislature."
Analyst Swapan Dasgupta offers an equally provocative counterview in an article in the same newspaper this week.
He writes that Mr Modi does indeed pose a "threat" and not merely a challenge to many in the BJP.
But that is because Mr Modi "threatens the cosy somnolence of bipartisan deal-making involving the main political parties", alluding to allegations of corruption against BJP chief Nitin Gadkari and Robert Vadra, son-in-law of Congress party chief, Sonia Gandhi. Both Mr Gadkari and Mr Vadra have denied the allegations.
So is Mr Modi is a visionary outlier in the murky world of Indian politics or an "old fashioned authoritarian" - as Mr Khare calls him - who has usurped all credit for Gujarat's traditionally dynamic economy, powered by the Gujarati mercantile spirit? The truth possibly lies somewhere in between.