Foreign Minister S M Krishna quits before India reshuffle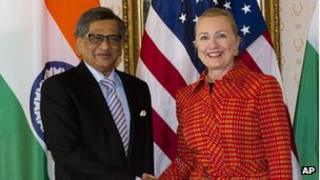 The Indian Foreign Minister, SM Krishna, has resigned with immediate effect.
The move comes ahead of an expected cabinet reshuffle by Prime Minister Manmohan Singh this weekend.
Mr Krishna, 80, said he was "making way for younger people". He has been foreign minister for three years.
Analysts say his influence on foreign policy has been limited, with key decisions having been taken by the prime minister.
A visit by Mr Krishna to Laos was cancelled on Friday.
Mr Krishna said he would continue to work for the Congress Party. He is expected to return to Karnataka state, where he served as chief minister for five years between 1999 and 2004.
Mr Krishna was widely criticised by Indian opposition politicians for reading out the wrong speech at the United Nations in 2011.
He was three minutes into a speech drafted for the Portuguese foreign minister before an aide drew his attention to the error.
He said the oversight was understandable as all such speeches began with the same preambles.
Manmohan Singh is expected to announce a thorough overhaul of his coalition's cabinet this weekend.
Star campaigner
It is thought that Rahul Gandhi, son of assassinated prime minister Rajiv Gandhi, will feature among the new blood to be introduced.
Rahul Gandhi is his party's star campaigner and he met the prime minister last week.
The Congress-led coalition lost its its parliamentary majority last month when a key ally, the Trinamool Congress, refused to back proposed economic reforms.
Manmohan Singh needs to revive the fortunes of his party ahead of national elections in 2014.
Congress has been the dominant force in Indian politics for almost all of the past 65 years.
But since its re-election in 2009, it has been tainted by allegations of corruption and the mis-selling of national assets.