Robert Vadra's land deals: Gandhi son-in-law 'cleared'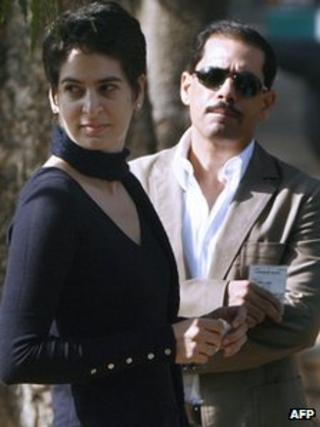 Officials in India's Haryana state have found no irregularities in the land dealings of Robert Vadra, son-in-law of Congress party chief Sonia Gandhi, media reports say.
Mr Vadra was at the centre of a political row after allegations over his links with top property firm DLF.
An anti-corruption group demanded a probe, claiming Mr Vadra got interest-free loans to buy property from DLF.
Mr Vadra and DLF have consistently denied the allegations.
Campaigner Arvind Kejriwal alleged that loans to Mr Vadra had been given in return for favours from Congress-ruled states - and the opposition BJP also called for a probe.
But according to media reports, the deputy commissioners of Gurgaon, Faridabad, Palwal and Mewat areas investigated and found no irregularities in Mr Vadra's land deals.
"Newspapers say Haryana officers give clean chit to Vadra. That was expected. Country would be surprised if it were otherwise," Mr Kejriwal tweeted on Friday morning.
The probe against Mr Vadra was initiated by a senior civil servant, Ashok Khemka, who was transferred soon after he ordered the investigation.
Media reports and anti-corruption campaigners linked his transfer to the probe - they said an "honest" officer's transfer showed that the government was trying to muzzle investigations into controversial land deals.
But the authorities in Haryana state said it was the "government's prerogative" to transfer any official they wanted.
Robert Vadra, who is a businessman, has called the allegations "utterly false, entirely baseless and defamatory".
DLF has said that its business dealings with Mr Vadra were above board.