India's Faizabad town tense after Hindu-Muslim violence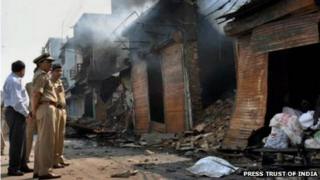 Tension prevails in Faizabad town in the northern Indian state of Uttar Pradesh after two people were killed in religious violence on Thursday.
The town was put under curfew for the entire day after rioters burnt several shops and vehicles.
Curfew was lifted on Friday morning, but few people are out on the streets.
Clashes between Hindus and Muslims began on Wednesday night after rumours that a statue of the Hindu goddess Durga had been vandalised, police said.
Faizabad is near Ayodhya, the scene of deadly religious riots 20 years ago.
In 1992, Hindu hardliners brought down the Babri mosque there claiming that the site was the birthplace of the Hindu god Ram.
The violence on Wednesday night broke out when a group of Hindus were taking a Durga idol for immersion in a river at the end of the 10-day Durga puja festival.
Police used tear gas shells and fired in the air to control the fighting, reports said.
The state government has suspended senior local police and administration officials accusing them of "negligence" and ordered an inquiry into the incident.
Religious violence has been on an upswing in Uttar Pradesh state where at least 12 people have been killed in the last seven months.