Indian rickshaw-puller's baby Damini 'out of danger'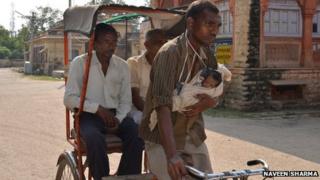 The condition of a month-old Indian baby girl, whose rickshaw-puller father was forced to take her to work when her mother died, is improving, doctors say.
On Sunday she was taken to hospital, weak, underweight and suffering from septicaemia. Her father had had to carry her in a sling as he worked.
Damini has been taken off life-support and she is now stable, Dr JK Mittal of the Fortis hospital in Jaipur said.
Meanwhile, people moved by the family's plight have been sending them money.
In the week since the story was first published on the BBC news website, money has poured in from around the world to help Damini and her father Bablu Jatav.
A bank account set up for them now contains 1.3m rupees ($24,236; £15,082), reports say.
Mr Jatav's wife, Shanti, died on 20 September, soon after giving birth to their first child in the town of Bharatpur in Rajasthan state. As there was nobody to look after the baby, Mr Jatav had to take her to work with him every day.
After reading the family's story, the district administration is now helping Mr Jatav and the government is bearing the cost of Damini's treatment in hospital.
'Very happy'
"Baby Damini is responding to treatment and is out of danger now. We have also noted an increase in her weight," Dr Mittal told the BBC on Thursday morning.
He said she had been taken off the ventilator on Wednesday.
"I'm very happy that Damini is recuperating. I have been told by the doctors that she is now fine," Mr Jatav told the BBC.
He also thanked people for their support in the past week.
"I don't remember the names of the countries from where people have been calling up to help us. Everyone has been asking about Damini's health. My daughter is very lucky," he said.
Meanwhile, a Bharatpur-based non-governmental organisation, Apna Ghar, has stepped in to help Mr Jatav take care of Baby Damini once she leaves the hospital.
"We are in touch with Mr Jatav and the district administration and we will assist the family," Apna Ghar founder BM Bhardwaj said.
(BBC readers wanting to help Bablu Jatav and Baby Damini should get in touch with BM Bhardwaj of Apna Ghar on 0091-9414023049 or 0091-9950737673. The Apna Ghar NGO website address is: http://www.apnagharbharatpur.org/apna%20ghar/index.html)