Winners and losers in India's foray into Formula 1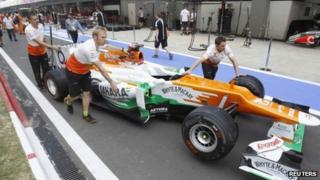 What was once called Jaganpura village on the outskirts of Delhi is now part of a 2,500-acre site that has been transformed into a state-of-the-art Formula 1 racing circuit and an adjoining site known as Sports City.
Greater Noida's 5km (3-mile) Buddh International Circuit (BIC) has been up and running for a year - and this weekend the 100,000 capacity stadium will be hosting the second Formula 1 Indian Grand Prix.
The development of the track has in itself created numerous winners and losers.
Balraj Pradhan's seven-bedroom palatial house shows that he is definitely one of the winners.
Built over 1.25 acres of land, it has marble flooring, air conditioning and a four-wheel drive in the garage - all facilities normally to be found in an upmarket urban house in the adjoining national capital.
Wearing spotless white clothes, Pradhan says he owns 100 acres of land in another village about 30km (18 miles) away that guarantees him a "decent" income.
Unkempt clothes
But venture just a little bit further and the area shows its flip side.
Phire, 25, runs a small grocery shop built inside his one-bedroom house. Until two years ago he was a farmer and had no financial problems. But now he says his life is in tatters, his debts mounting by the week.
His dirty and unkempt clothes give his situation away too.
''Whatever I got by way of land compensation was spent buying a small house and on a wedding in the family," he says. ''I am an illiterate farmer. That's been my livelihood. It has been snatched away. I can't do anything else.''
There is one common factor in Pradhan's success story and Phire's distressing tale. Both attribute their current state of affairs to the construction of the country's first world class circuit - for which their lands were acquired.
Their contrasting fates reflects the divided experiences of most local people.
Development a 'boon'
Most people who owned small and medium-sized farms curse the race track and everything to do with it - for them it has brought only unemployment and landlessness.
Those who have found work do not have much reason to be more cheerful - most have only been able to find low-paid employment as gardeners or labourers.
Critics of the project are not hard to find - they include Balraj Pradhan who says that although he benefited financially from the project, it has been a nightmare for most farmers in the immediate vicinity of the site.
"Their land is gone, they can't do anything and the government has done little to improve their job prospects. I would say that with a few exceptions, Formula 1 has only spelled disaster,'' he said.
However there is a significant minority of people - such as big farmers or landlords - who in some cases earned upwards of 10 million rupees ($186,000) in compensation for selling their land. For these people the development of the track has been a boon.
Many people in this category will almost certainly re-invest the money earned by buying land elsewhere, thus keeping them in agriculture.
Luxury hotels
Since last year property prices in this region have gone up by 20-25%, despite the price of real estate seeing a downward trend in most other areas of India in recent times.
While Formula 1 is believed to be the main factor for the area around the racing track retaining its value - the dual carriageway connecting it to Delhi is also another key reason.
At the same time the track and its surrounding area have moved dramatically up-market. Some luxury hotels have been built, while many others are in the pipeline.
The scale of the development work is apparent from construction activity going on either side of the road as you drive closer to Sports City. It promises to have an infrastructure that is unmatched in the region, complete with a cricket stadium and tennis courts.
In addition there are plans afoot to launch a nocturnal zoo and night safari park - similar to projects in Singapore - comprising 71 species of animals, including birds and reptiles.
The speed of construction is there for all to see - already huge residential buildings and commercial complexes have sprung up all around.
Employees of property agents can be seen dotting the road, luring passing motorists or pedestrians with offers of flats, plots and shops of all shapes and sizes. It is estimated that the development has generated about 2,000 direct and indirect jobs for transporters, vendors and suppliers.
''You can gauge the financial impact of Formula 1 from marriages in our area,'' says Yamuna Expressway Industrial Development Authority Deputy CEO PC Gupta, who says that it is not uncommon for luxury cars to be given away as dowries.
Four years ago such a gesture would have been unthinkable. Such is the speed of India's entry into the world of Formula 1.