Indian mother saves child from leopard's jaws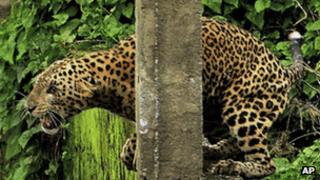 A mother in northern India chased a leopard into the forest to retrieve her child from the animal's jaws.
The leopard grabbed seven-year-old Atul while his mother Draupadi was working at a farm in Uttar Pradesh state.
Draupadi shouted for help and chased the animal with a sickle in her hand. Many other villagers also gave chase, a forestry department official said.
The leopard finally dropped the boy, who has been taken to hospital with serious injuries.
The incident took place at Mukhiya Farm near Katraniya Ghat forest.
The regional tiger conservation society has given 2,500 rupees ($47; £29) for Atul's treatment, Ram Krishna, a local forest department official told the BBC by telephone.
He said the leopard population in the forest had increased in the past few years and the animals had been increasingly straying into nearby villages in search of food.
There have been reports of several attacks by leopards in the villages around the forests, the official said.
Wildlife experts say there are no reliable population estimates for leopards in India, but rough estimates put their number at about 10,000.