India BJP's Gadkari accused in irrigation scandal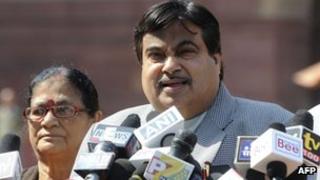 India's top anti-corruption campaigner Arvind Kejriwal has accused Nitin Gadkari, chief of the main opposition Bharatiya Janata Party, of involvement in a massive corruption scandal.
The activist alleged that Mr Gadkari was involved in an irrigation scam worth millions of dollars.
Mr Kejriwal accused the BJP leader of stealing "the water, power and land of poor farmers".
Mr Gadkari has rejected similar charges by activists in the past.
When the allegations were first made by activist Anjali Damania, who accused Mr Gadkari of allegedly covering up the Maharashtra irrigation scandal, the BJP leader described them as "false, baseless and defamatory".
He said he would "quit politics if any charges are proved".
In recent days, Mr Kejriwal has made serious corruption allegations against Law Minister Salman Khurshid and Robert Vadra, son-in-law of the ruling Congress party chief Sonia Gandhi.
Both men strenuously deny the allegations.
On Wednesday, Mr Kejriwal and Ms Damania appeared at a crowded press conference in the capital, Delhi.
Mr Kejriwal alleged that Mr Gadkari's business interests were "flourishing in Maharashtra at the cost of dying farmers".
He alleged that Mr Gadkari had "remained silent" in the irrigation scandal - which recently led to the resignation of former Maharashtra deputy chief minister Ajit Pawar - because Mr Pawar had helped him acquire land for irrigation projects.
Mr Kejriwal, who recently entered politics and announced a new political party "to fight corruption and the culture of bribe-taking", has threatened to expose corrupt leaders from the government and opposition parties.
India has been hit by a series of corruption scandals recently and the allegations against Mr Gadkari are the latest by Mr Kejriwal's group to be aimed at senior politicians.