Profile: Nitin Gadkari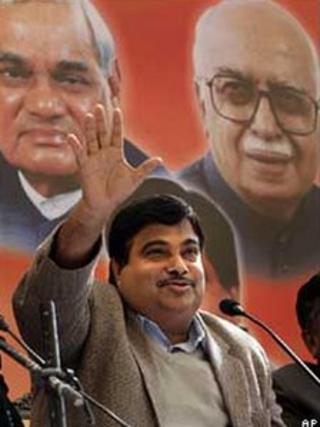 Nitin Gadkari, who has decided not to seek a second term as the president of India's main opposition Bharatiya Janata Party (BJP), has lately been mired in a string of controversies, with anti-corruption campaigners accusing him of massive corruption.
Born in a middle-class family in Maharashtra's Nagpur city, Mr Gadkari is now believed to own several companies, including power plants, construction firms, huge farm lands and fertiliser and sugar factories.
The 55-year-old BJP leader denies all allegations of corruption and has said in the past that he would quit politics if any charges were proved.
Mr Gadkari was appointed to head the Hindu nationalist BJP in December 2009 after the party suffered a defeat in the general elections earlier that year.
His selection raised many eyebrows in a party trying to rejuvenate itself. He was in many respects the dark horse among the contenders.
The party's most high-profile leader - former Prime Minister Atal Bihari Vajpayee - has been ill and not been seen in public in years. Former party chief Lal Krishna Advani is in his 80s and considered too old to lead the party.
At the time of his appointment, Mr Gadkari was 52 and the youngest-ever president of the BJP.
It was expected that he would put the party's divided house in order, infuse it with fresh ideas and bring it back into the reckoning for important regional elections and the general elections of 2014.
'Uninspiring leadership'
But the party remains divided as its top leaders jockey for power and the BJP appears nowhere near ready for 2014.
And correspondents say Mr Gadkari's uninspiring leadership is largely to blame for that.
In his defence, Mr Gadkari was new to the hurly-burly of national politics.
In the earlier stages of his career he was considered close to the Maharashtra-based Rashtriya Swayamsevak Sangh (RSS), the Hindu nationalist organisation and ideological parent of the BJP.
He served as a state minister for public works in Maharashtra and headed the party's state unit before his elevation.
At the time of his appointment, he described himself as a "social entrepreneur".
"Politics is an instrument of socio-political reform," he said.
The priority he said should be to help the poorest of the poor - especially farmers facing myriad financial pressures.
"Our first priority should be to stop suicides by farmers in the country," he pronounced.
In an interview with the BBC soon after his appointment, Mr Gadkari said he would like to focus his political energies on the states of Tamil Nadu, Kerala, West Bengal and Haryana in order to boost the electoral strength of the BJP.
Uttar Pradesh - the northern state that sends the largest number of legislators to parliament and which was critical of the BJP forming national governments in 1998 and 1999 - is another area to focus on, he said.
Mr Gadkari also seemed prepared to woo Muslim voters in what could be a departure from past practice.
The majority of India's 160 million Muslims continue to regard the BJP as a party that cannot be trusted.
Mr Gadkari said both Hindus and Muslims in India "share a common heritage".
He conceded that the February 2002 Gujarat riots - in which 1,044 people, the vast majority of them Muslims, were officially listed as killed - were "unfortunate".
But he has defended controversial Gujarat Chief Minister Narendra Modi, who headed the state administration at the time of the riots, saying it was "unfortunate that attempts are being made to defame Mr Modi".
Mr Gadkari was handed the presidency of the party at a crucial time.
In the past year, India's governing Congress party has been in a shambles, weakened by accusations of a policy paralysis and a series of corruption charges involving senior government ministers.
It could have been a perfect opportunity for Mr Gadkari to revive the fortunes of the BJP party.
But it appears that he has squandered that opportunity, especially now that serious corruption allegations have been made against him too.