Underwater dive to demand India protect the oceans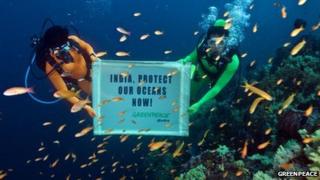 Greenpeace activists have dived to the bottom of the Indian Ocean to highlight the need to protect sea waters.
The dive comes as 70 environment ministers from around the world are meeting in the southern Indian city of Hyderabad to discuss biodiversity.
On Tuesday, Indian Prime Minister Manmohan Singh pledged $50m (£30.96m) towards conservation schemes.
India has taken over the presidency of the United Nations Convention on Biological Diversity (CBD) until 2014.
The activists dived to a depth of 65ft (19.81m) off the coast of the Andaman and Nicobar islands and unfurled a sign with the words "India, Protect Our Oceans Now!", Greenpeace said in a press release.
"The Indian government should take a leadership role in promoting strong outcomes on oceans," the group's international campaigner Veronica Frank said.
"India could help generate the necessary global momentum to protect the world's oceans and the millions that depend on them for food, health and livelihoods," she added.
Conservationists hope that some safeguards against the exploitation of deep sea resources will be adopted at the UN convention.
India's pledge to the CBD will be to "strengthen the institutional mechanisms for biodiversity conservation in India" and further funds will be made available to help other developing countries to do the same, PM Singh said.
Experts say marine life in oceans around the world is threatened by indiscriminate fishing and unregulated oil exploration which cause pollution, widespread destruction and disruption to species habitat.
At the last meeting in 2010 in Nagoya, Japan, leaders had agreed on a 20-point plan to be met by 2020.
They included halving the rate of habitat loss, expanding water and land areas under conservation and preventing the extinction of species on the threatened list.