India cabinet clears key land reform bill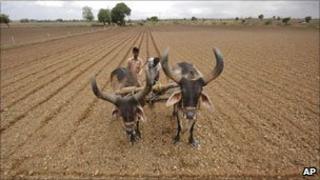 India's ministers have cleared a long-delayed bill to reform land acquisition, with the aim of giving farmers a better deal.
Under the Land Acquisition Bill, a buyer would have to obtain consent of two-thirds of the land's owners to buy it for public and private projects.
The proposed law will be presented to parliament in its winter session.
The government hopes the law will help bring in faster land industrialisation projects.
The difficulty of buying land for industrial and infrastructure projects is stifling India's economic growth, correspondents say.
Last September, the government introduced a similar bill in parliament. It was sent to a parliamentary committee which recommended several changes.
On Tuesday a group of ministers approved an amended bill, saying that it had taken into consideration some of the key issues like compensation for the sellers of the land.
"The bill is finalised. On each and every issue where there were different views, we succeeded in bringing [about] some understanding," Agriculture Minister Sharad Pawar said.
Land has become a huge political issue. State governments need land for industry or infrastructure projects, but farmers and rural people say that cannot happen at their expense.
The issue is hugely sensitive in a country that, despite being Asia's third-largest economy, is home to hundreds of millions of rural poor, correspondents say.