Australian honour for Sachin Tendulkar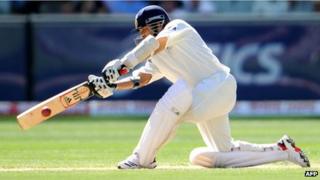 Indian cricket star Sachin Tendulkar will be awarded the Order of Australia, one of the country's highest honours, Australian PM Julia Gillard has said.
Ms Gillard, currently on a three-day visit to India, said Tendulkar deserved the "special honour" because he was a "very special cricketer".
Tendulkar is the first cricketer to score 100 international centuries.
The 39-year-old cricket star is also immensely popular with cricket fans in Australia.
"Cricket is of course a great bond between Australia and India. We are both cricket-mad nations," Ms Gillard said in Delhi.
"I am very pleased that we are going to confer on Sachin Tendulkar the membership of the Order of Australia," she said.
"This is a very special honour very rarely awarded to someone who is not an Australian citizen or an Australian national."
The award will be conferred on Tendulkar during Australian minister Simon Crean's upcoming visit to India, Ms Gillard said.
The cricketer has played 55 Test matches against Australia and scored 5,247 runs. Twenty of these games were played in Australia. An unbeaten knock of 241 in Sydney remains his highest score against Australia.
Tendulkar has also played 96 ODIs (one-day internationals) against Australia and scored 3,817 runs.