India court lifts ban on tourism in tiger core habitat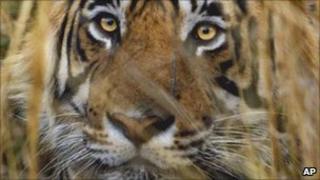 India's Supreme Court has lifted its ban on tourism in "core zones" of more than 40 government-run tiger reserves.
The court order came after the National Tiger Conservation Authority announced fresh guidelines to protect the tiger.
Under the new rules, no new tourism infrastructure would be created and all permanent structures would be gradually removed from the core tiger habitat.
The ban came in July after complaints that commercial activity was having an impact the tiger population.
In its ruling on Tuesday, the Supreme Court said the states were free to challenge the new guidelines if they did not agree with them.
Tiger numbers have shrunk alarmingly in India in recent decades.
A 2011 census counted about 1,700 tigers in the wild. A century ago there were estimated to be 100,000 tigers in India.
Conservationists say poaching and conflicts between the tigers and people living in and on the periphery of the tiger reserves pose a major threat to the animals.
Most tiger reserves in India are divided between the "core zones" and buffer zones - fringe areas that surround tiger reserves up to a distance of 10km (six miles).
Some conservationists say commercial tourism activities should be totally stopped in the core or critical tiger habitats in tiger reserves.
But the government says some activity may be permitted in the core area for "regulated, low-impact tourism".