Three killed in India navy helicopter crash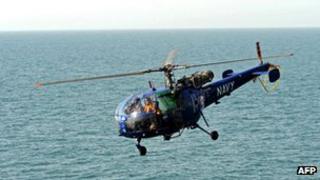 Three Indian navy personnel, two of them pilots, were killed after their helicopter crashed in Goa on the western coast, a navy official said.
The Chetak helicopter was on a routine sortie from Mumbai city to Bangalore in the southern state of Karnataka.
It was coming in to refuel at Goa's Dabolim airport.
The rotor of the helicopter broke as it was about to land and the machine burst into flames after the crash, eyewitnesses said.
"The chopper crashed at 09:51 (04:21GMT) and it had three crew - two officers and one sailor. There are no survivors," news agency AFP quoted a navy spokesman as saying.
Officials said an inquiry had been ordered into the incident.