Australia PM Julia Gillard begins India visit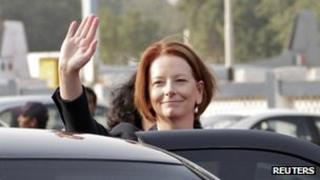 Australian Prime Minister Julia Gillard has begun a three-day visit to India.
The two countries are expected to announce negotiations on civil nuclear co-operation during Ms Gillard's visit.
Last December Ms Gillard's ruling Labor party overturned its long-standing ban on exporting uranium to India.
Australia, which holds an estimated 40% of the world's uranium, already exports it to China, Japan, Taiwan and the US.
The country has excluded sales to India because it is not a signatory to the Nuclear Non-Proliferation Treaty.
Ms Gillard is expected to hold meetings with Indian PM Manmohan Singh and senior government ministers in Delhi on Wednesday.
She is also expected to meet Congress party chief Sonia Gandhi.
The Australian prime minister's visit is aimed at boosting economic ties between the two countries - bilateral trade is worth $20bn (£12.5bn) and is growing at the rate of 20% every year.
Ms Gillard stopped briefly in the Afghan capital, Kabul, on her way to Delhi, to meet Australian troops and hold talks with President Hamid Karzai.