India law minister denies embezzlement charge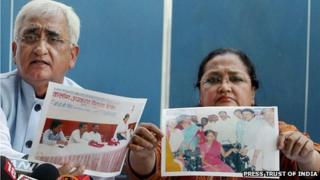 India's law minister has denied allegations that he and his wife embezzled state funds allotted to a NGO they run to help disabled people.
Salman Khurshid said none of the charges levelled by a TV channel and anti-corruption campaigners "can be proved".
The TV channel says Mr Khurshid and his wife Louise allegedly misappropriated $134,456 (£83,815) given to their NGO.
Anti-corruption campaigners have demanded Mr Khurshid's resignation.
The Aj Tak news channel has alleged that 7.1 million rupees given by the Social Welfare Ministry to the Zakir Hussain Memorial Trust, a NGO run by Mr Khurshid and his wife, for distributing cycles and hearing aids in 17 districts of Uttar Pradesh state had been misappropriated.
The alleged fraud, the channel said, involved forged signatures of government officials, a fake court affidavit and non-existent camps to help the disabled.
Anti-corruption campaigners, led by Arvind Kejriwal, protested over the weekend, demanding the resignation of Mr Khurshid and a probe into the allegations.
Mr Khurshid, who belongs to the ruling Congress party, told reporters on Sunday that "not a word [of the charges] can be proved."
"They [the channel and campaigners] can scream, scream and scream till they turn blue in their face," he said.
Mr Khurshid said he was open to an investigation by "any authority", but the probe should also investigate the role of the media group which owned Aj Tak channel.
Mr Khurshid also showed pictures of the camps which he said had been held to help the disabled.
A Congress party minister V Narayansamy has defended Mr Khurshid, saying the campaigners, led by Mr Kejriwal, were resorting to "cheap publicity" by "maligning people".
Mr Kejriwal recently set up an anti-corruption party.
Recently, he demanded a probe into alleged business links between Robert Vadra, son-in-law of Congress party chief Sonia Gandhi and a top property development company DLF.
The allegations have kicked up a political row in India.
Mr Vadra and DLF have denied the allegations.