India's billionaires and the wealth of the nation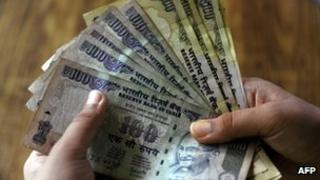 There were only two billionaires with a combined wealth of $3.2bn (£2.01bn) in India in the mid-1990s.
By 2012, there were 46 of them living in India with a net worth of $176.3bn (£111bn), according to the annual world's billionaires list compiled by Forbes magazine.
The ratio of total wealth of the billionaires to gross domestic product (GDP) - an indicator of how extreme wealth compares with India's growth - rose from around 1% in the mid-1990s to 22% at the peak of the stock market boom in 2008, before dropping to 10% of GDP this year.
So what does this tell us about the nature of the accumulation of wealth in India, one of the world's most unequal nations?
A new paper by Aditi Gandhi of Delhi's Centre for Policy Research and Michael Walton of Harvard University's Kennedy School of Government offers intriguing insights into the social demographics and source of wealth of India's billionaires.
Many economists, Ms Gandhi and Mr Walton point out, find a positive association between growth and self-made billionaire wealth, but a negative one with inherited wealth. "While no causality can be inferred, this is aligned with the view that self-made wealth is more likely to be associated with aggregate economic dynamism," they argue.
Analysing data put out by Forbes, the researchers found that though 21 Indian billionaires are "self-made", 40% of India's total billionaire wealth is owned by the "inherited and growing" category of businessmen.
The caste origins of India's billionaires are on predictable lines: 28 of the 46 billionaires come from traditional merchant classes (Banias, Parsis and Sindhis, for example), and a number of them belong to upper caste communities like Brahmins and Khatris.
A smaller number belong to the lower castes. There is one Muslim billionaire and no Dalit (formerly called untouchables) billionaires.
There is a more significant finding on the origins of billionaire wealth.
A total of 43% of the billionaires, accounting for 60% of billionaire wealth, had their primary - and original - sources of wealth from industries like property development, infrastructure, construction, mining, telecoms, cement and media.
These industries, Ms Gandhi and Mr Walton say, have strong links with the state.
Property development in India, most agree, is India's most shadowy business with a large number of transactions in illegal money on which no tax is paid.
Infrastructure and telecom licenses are typically given out through bids, which are often non-transparent and controversial. (A telecoms scandal rocked India last year). There are allegations of cartels working in the cement industry and sections of the media have been blamed for publishing and broadcasting news for money.
Ms Gandhi and Mr Walton note that all this does not mean that the billionaires acquired wealth through government connections and influence.
"However, it is notable that impressive wealth creation occurred in sectors with substantial potential for rent-extraction and rent-sharing between the private and government players," they say.
Many would say the research shows the two faces of Indian capitalism - like capitalism around the world - where business dynamism and oligarchies go hand in hand. All this can also lead to cronyism, often responsible for economic crises.
Business and the state continue to have tight links in India.
"In the last two to three decades this has bred both impressive business dynamism and even more impressive accumulation of extreme wealth in India. There is a real question as to whether an oligarchic business structure and a corruptible state will lead to the propagation of inequality and create distortions that hurt the growth process," write Ms Gandhi and Mr Walton.
It's a good question. The answer will determine how India tackles inequality.