India bid to save house sparrow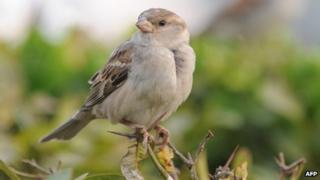 Authorities in the Indian capital, Delhi, have adopted the house sparrow as the "state bird" in a bid to halt any further decline in their numbers.
"We will take steps to ensure that the sparrow returns, feels safe, and is able to live peacefully in the city," Chief Minister Shiela Dikshit said.
The house sparrow is fast disappearing from India's rapidly-growing cities.
Experts say that a number of factors like high pollution and a growing use of insecticides are to blame.
"Their numbers have gone down drastically, specially in the cities. Sparrows don't like to build their nests in high-rise buildings. They prefer old-style construction where there are lots of nesting spaces," Sajeev TK of the Bombay Natural History Society's Delhi centre told the BBC.
"Also, because of pollution and use of insecticides, they are no longer able to find soft-bodied worms to feed their chicks," he said.
Experts say the humble sparrow is also being pushed out by bigger and more aggressive birds as food in the cities becomes scarcer.
Bird lovers and wildlife officials say that an aggressive awareness campaign can still save the sparrow and children would have to be at the heart of any effort to bring it back home.
"People need to be made aware that the sparrow shares the space with us in the cities. And children need to be encouraged to feed them," says Ranjit Lal, an avid bird watcher who writes on wildlife issues.
"Sparrows are smart birds, if they find food, they will return."