India drops sedition charges against cartoonist Aseem Trivedi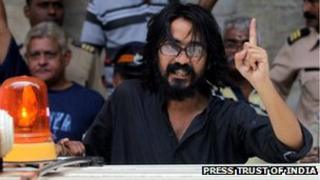 The government in the western Indian state of Maharashtra has dropped sedition charges against anti-corruption cartoonist Aseem Trivedi.
Mr Trivedi was arrested on the charges last month, but was freed from prison on bail after an outcry.
He was arrested for drawing cartoons which allegedly mocked India's constitution and national emblem.
Many Indians criticised his arrest saying it was an attack on freedom of expression.
The cartoonist has been participating in the anti-corruption movement led by campaigner Anna Hazare.
In one of a series of cartoons, he replaced the customary three lions in India's national emblem with three wolves, their teeth dripping blood, with the message "Long live corruption" written underneath.
Another cartoon depicted the Indian parliament as a giant toilet bowl.
The police arrested him and accused him of insulting national symbols.