India's Karnataka told to release Cauvery water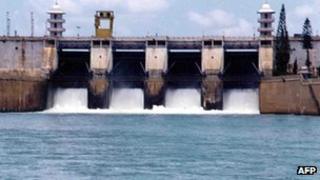 India's Karnataka state has been told to release water from a disputed river to Tamil Nadu state.
A body which monitors the sharing of water from the Cauvery river directed Karnataka to release water between 16 and 31 October.
Last week Karnataka stopped releasing water from the river to Tamil Nadu, defying a court directive.
Both southern states say they need the water for millions of farmers. The dispute has been running for years.
India's top court had earlier upheld an order from the Cauvery river authority - which is headed by PM Manmohan Singh - stipulating Karnataka must release 9,000 cubic feet per second of water to Tamil Nadu each day until 15 October.
But Karnataka defied the order, telling the Supreme Court that it could not release water as its reservoirs did not have enough supplies. There were also protests in the state against the court ruling.
Tamil Nadu has filed a contempt of court petition against Karnataka.
On Thursday, the Cauvery Monitoring Committee ordered Karnataka to release water. The decision was based on findings of a monitoring team that visited both states last week.
The Cauvery originates in Karnataka and flows into Tamil Nadu. The dispute over sharing its waters dates from the 19th Century during British rule.