Bollywood's Amitabh Bachchan turns 70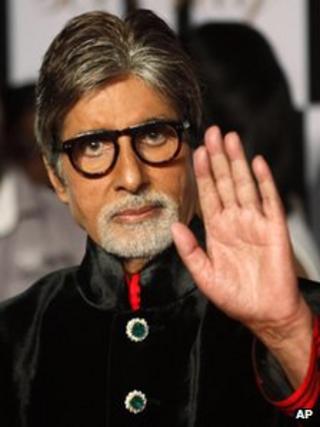 Bollywood legend Amitabh Bachchan is celebrating his 70th birthday, after a star-studded party held by his wife Jaya Bachchan in Mumbai.
Acting stars, businessmen and politicians were among those who attended the party on Wednesday night.
Bachchan, who has acted in more than 180 films, remains India's most popular actor.
"I quite like the idea of growing old. It's a natural phenomenon," Bachchan told reporters ahead of his birthday.
Bachchan told a newspaper that old age "wasn't bad, [just] nature taking its own course".
"So long it doesn't happen out of turn, it's okay."
Bachchan also thanked his fans in a tweet he sent out on Wednesday night.
"Birthdays are special for all... Mine is no different for tomorrow... But would never be the same without your love and affection."
At the pre-birthday party on Wednesday night, Bachchan turned up with his family, posed for photographs and thanked everyone, reports say. Music from his popular films was played.
'Glamorous'
"It is a glamorous 70 and we all are really happy to come here celebrating his birthday with family, friends and everyone," his son, Abhishek Bachchan, an actor, said.
A large number of Bollywood stars, including Rishi Kapoor, Sridevi, Vidya Balan, Sanjay Dutt and Madhuri Dixit, attended the party.
"Not even actors of 30 years of age can match his energy. He is active, he is energetic, full of life," said actress Bipasha Basu.
Bachchan told the Press Trust of India news agency that he had never "paid attention" to his popularity.
"I never judge myself. I cannot say my contemporaries have been left behind me. That would be wrong. I have never paid attention to my popularity. People can write what they want to but it doesn't matter to me," he said.
Bachchan was voted the greatest actor ever by a BBC online poll in 1999, and was the first Indian actor to become a waxwork at Madame Tussaud's.
In July, Bachchan carried the Olympic flame in London, a day before the opening ceremony.
Last year Bachchan returned as the celebrity host of Kaun Banega Crorepati, the Indian version of Who Wants to be a Millionaire - one of the most watched shows on Indian television.
He is also to make his Hollywood debut in a new film adaptation of The Great Gatsby, starring Leonardo DiCaprio, due to be released next year.