Probe demanded against Gandhi son-in-law Robert Vadra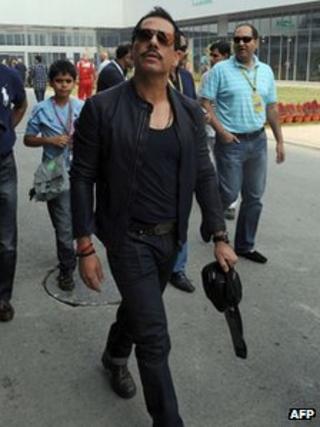 An anti-corruption campaigner in India has demanded a probe into alleged business links between a member of the Gandhi family and a top property development company.
Arvind Kejriwal says Robert Vadra, son-in-law of Congress party chief Sonia Gandhi, received easy loans from DLF.
He alleged that the loans had been given in return for favours from Congress-ruled states.
Mr Vadra and DLF have denied the allegations.
The allegations have kicked up a political row in India.
The main opposition Bharatiya Janata Party (BJP) has also sought a probe into Mr Vadra's business links with DLF.
Robert Vadra, who is a businessman, has said the allegations made by the anti-corruption group led by Mr Kejriwal were "utterly false, entirely baseless and defamatory".
DLF has said that its business dealings with Mr Vadra were above board.
Mr Kejriwal has also sought a clarification from the Congress party-led government in the state of Haryana on the alleged concessions it gave to the company. The state government has denied it gave any favours to the company.
Mr Kejriwal told reporters on Tuesday that "there is strong evidence [against Mr Vadra]. We demand an independent probe by a special investigating team of retired Supreme Court judges".
The Congress party has dismissed the allegations against Mr Vadra as "baseless" and said there was "nothing new and no proof" in the fresh charges levelled by Mr Kejriwal.
Corporate Affairs Minister Veerappa Moily said Mr Vadra runs six companies and "no violations" [had been found in their dealings].