KFC restaurant shut in India after worm complaint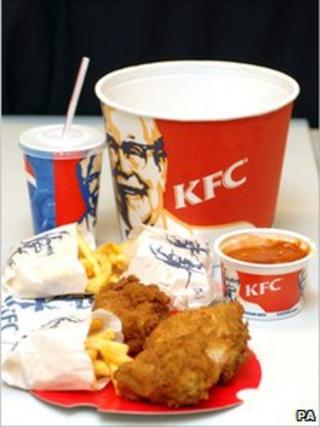 Authorities in the Indian state of Kerala have shut down a restaurant of fast-food giant KFC after a customer complained that he had been served a chicken meal containing live worms.
KFC said that it was "investigating the incident" but the "likelihood of it happening was almost close to negligible".
Authorities say they found worms in the chicken when they inspected the eatery.
Fast-food restaurants have become immensely popular in India.
The incident was reported at KFC's restaurant in the state capital, Trivandrum, which opened recently and has been doing brisk business.
It is believed to be the one of the first times such an incident has been reported from a foreign fast-food chain in India.
Kerala's food safety authorities ordered a "temporary closure" of the restaurant on Tuesday after receiving the complaint from a customer, who came to the restaurant with his family.
"We came here after we received a complaint from a customer who said he found live worms in his chicken. When we inspected the place, we found worms in the fried chicken," said Sivakumar of Kerala's Food Safety Authority.
In a statement sent to the BBC, KFC said it was "aware of a recent inspection conducted by the local authorities at our restaurant in Trivandrum".
"All KFC chicken is sourced from the state-of-the-art manufacturing facilities which comply to the most stringent food safety standards... Our chicken is freshly prepared several times a day in the most hygienic conditions in ovens at 250C or fryers at 170C," the statement said.