Rushdie's Midnight's Children 'to be released in India'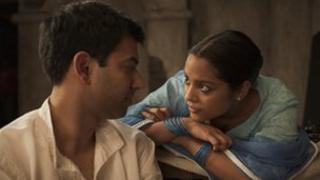 A film based on Sir Salman Rushdie's novel Midnight's Children is reportedly to be released in India after fears it would not find a distributor.
PVR Pictures says it has bought the film for India and is considering a December release date.
Director Deepa Mehta had said that the film was struggling to find a distributor in India.
Sir Salman is a controversial figure in India. His 1988 book The Satanic Verses remains banned in India.
In January he withdrew from the Jaipur Literature Festival after reports of a death threat. He was also forced to abandon plans to address the gathering by a video link after protesters threatened to march on the venue.
Midnight's Children was shown at the Toronto Film Festival in Canada last month.
"We're looking at releasing the film in December. We're yet to decide the release date," PVR Pictures chief Kamal Gianchandani told Livemint.com.
He said the film "will be released and marketed like a big Indian Hollywood film". PVR is one of India's biggest cinema chains.
Earlier, Mehta told the Hindustan Times newspaper that she feared that "insecure politicians" would prevent Indians from watching the film.
Mehta was prevented by some Hindu groups from filming Water in the Indian city of Varanasi.
She later shot the film in Sri Lanka, where Midnight's Children was also made.