India's Tamil Nadu to go to court in Cauvery water row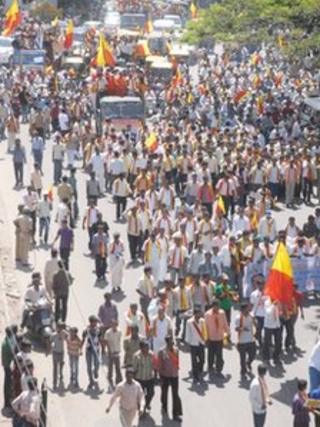 India's Tamil Nadu state has decided to file a contempt of court petition against neighbouring Karnataka for refusing to release water from a disputed river.
On Monday, Karnataka stopped releasing water from the Cauvery river to Tamil Nadu, defying a court directive.
There have been protests in Karnataka after a Supreme Court ruling forced the state to release water.
Both southern states say they need the water for millions of farmers.
The Supreme Court recently upheld an order from the Cauvery river authority - headed by PM Manmohan Singh - that stipulates that Karnataka should release 9,000 cusecs (cubic feet per second) of water to Tamil Nadu each day until 15 October.
But on Monday, Karnataka's state government told the Supreme Court that it could not release water as its reservoirs did not have enough supplies.
The Tamil Nadu government said in a statement on Tuesday that it had decided to file a contempt petition against the Karnataka government "which has unilaterally stopped releasing water, amounting to dishonouring the Supreme Court verdict".
"We can't release any more water. It is a firm decision. There is scarcity of water," Karnataka Deputy Chief Minister KS Easwarappa had said.
Political leaders and farmers groups say Karnataka was "ready to face legal action rather than share scarce water" with Tamil Nadu.
The Cauvery originates in Karnataka and flows into Tamil Nadu. The dispute over sharing its waters dates from the 19th Century during British rule.