Gandhi family member Robert Vadra denies charges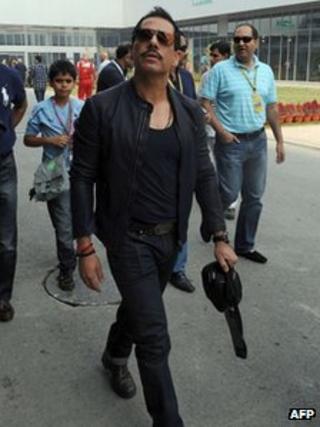 A member of India's Gandhi family has denied allegations that he was favoured by a top property development company.
Robert Vadra, son-in-law of Congress party chief Sonia Gandhi, said the allegations made by an anti-corruption group were "utterly false, entirely baseless and defamatory".
The company, DLF, has said that its business dealings with Mr Vadra was above board.
The allegations have kicked up a political storm in India.
The main opposition BJP has sought a probe into Mr Vadra's business with DLF.
The allegations were made over the weekend by campaigners led by Arvind Kejriwal, who recently announced a new political party to fight corruption.
Mr Kejriwal said Mr Vadra had received easy, interest-free loans from DLF to buy property from the company.
He alleged that the loans had been given in return for favours from Congress-ruled states.
Mr Vadra said on Sunday he was saddened by the attempts to "malign" him and his family.
"I am a private, law-abiding citizen, who has been engaged in business over the past 21 years," he said in a statement.
He said the campaigners were "manufacturing lies" to "gain cheap publicity for the launch of their political party".
DLF said in a statement that it had not given away an easy loans or received any favours from authorities.