India counting Ganges river dolphins in Uttar Pradesh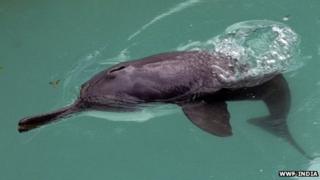 A census has begun in India's Uttar Pradesh state to count the number of endangered Ganges river dolphins.
The three-day survey will stretch across 2,800km (1,740 miles) of the Ganges and several of its tributaries.
Known as Soons in the local language, this dolphin species is among four freshwater dolphins found in the world.
The population of these dolphins has been rapidly declining in India and conservationists say it is down from 5,000 in 1982 to less than 2,000 now.
The decline is blamed on construction of dams and barrages, indiscriminate fishing, increasing boat traffic and river pollution.
Conservation group WWF-India, which is conducting the survey, said the count would conclude on 7 October when the state's Chief Minister Akhilesh Yadav would announce the findings.
"The rapid decline in the number of dolphins across the country is of great concern and needs immediate attention," Ravi Singh, WWF-India chief, said.
The last dolphin count in the state was done seven years ago.
"WWF-India estimated a population of 600 river dolphins in the rivers of Uttar Pradesh during 2005. Since then, no comprehensive census of the species has been done," WWF-India official Sandeep Behera said.
"We hope to have the current population status of the species by the end of this campaign and develop an action plan for its conservation in the state," he added.
The census is to be carried out in the Yamuna, Son, Ken, Betwa, Ghagra and Geruwal rivers - all tributaries of the Ganges.