India announces insurance and pension reforms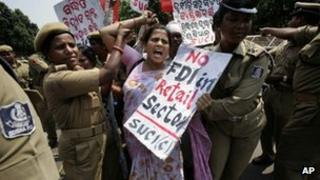 India's government has approved 49% foreign direct investment in insurance companies and opened the pension sector to foreign investors.
The reforms are seen as a crucial part of efforts to boost a slowing economy.
India's insurance and pension sectors are governed by acts of parliament and the amendments must be approved by MPs.
Correspondents say that may not be easy, as opposition parties are still protesting against retail reforms and fuel price rises unveiled last month.
In September, the government announced the opening up of India's massive retail sector to foreign supermarkets. It also announced a 14% rise in the price of diesel, which is heavily subsidised in India, and reduced the subsidy on cooking gas cylinders.
Opponents say the measures will hurt the poor.
On Thursday, the cabinet approved the insurance amendment bill, which proposes raising the level of foreign investment allowed in the insurance sector to 49%, from the current 26%.
The cabinet also cleared up to 49% foreign investment in pension companies - a sector so far closed to foreign investment. Earlier reports said investments of up to 26% had been cleared.
Correspondents say the reforms, which come after months of policy paralysis, are an attempt by Prime Minister Manmohan Singh's government to restore confidence in the slowing economy.
In a BBC interview on Wednesday, India's Finance Minister P Chidambaram promised more reforms in banking, insurance and other sectors.
"It will be clear we are on the reform path," he said.
Mr Chidambaram said the country would "return to 9% growth" once certain "fundamental constraints are addressed".
The latest forecasts from economists at the Asian Development Bank are less optimistic, however, suggesting that India's growth will slow to 5.6% this year, before picking up to 6.7% in 2013.