Indian court orders toilets to be placed in all schools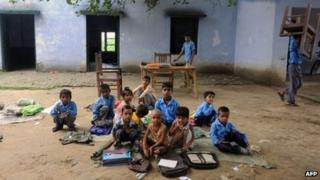 India's Supreme Court has given the central and state governments six months to ensure that all schools have proper toilets and drinking water.
The court also said the governments must implement its previous directions to provide the basic infrastructure.
Last year the court ordered that toilets, especially for girls, should be built in all educational facilities.
Studies have shown that parents of girls do not send them to school if there is no toilet.
A bench headed by Justice KS Radhakrishnan said that a lack of such basic facilities was a violation of the right to free and compulsory education guaranteed in the Indian constitution.
The order comes after a private petition was filed in the court.
In April a study by the Right to Education Forum, a civil society group of around 10,000 non-governmental organisations, said 95% of schools across India do not comply with their infrastructure standards.
It showed that while one in 10 schools lack drinking water facilities, 40% lack a functional common toilet. Another 40% lack a separate toilet for girls.
Critics have long complained that schools run by both central and state governments are poorly-run and badly managed, although several government schemes are running to attract more children to schools.
Indian Prime Minister Manmohan Singh has said sufficient funds would be made available to ensure that children had access to a full education.