Arvind Kejriwal, India's corruption-buster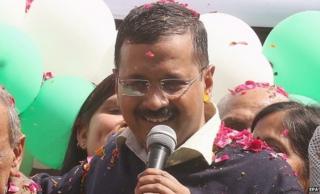 Indian anti-corruption activist Arvind Kejriwal has defied expectations with a landslide victory in the Delhi state elections just months after being thrashed in the general elections.
Mr Kejriwal's Aam Aadmi Party (AAP) won 67 of the 70 seats in the Delhi assembly, setting the stage for him to be appointed chief minister.
An austere 46-year-old former civil servant, who once described himself as an anarchist, he has had a rollercoaster ride ever since he made a spectacular political debut in December 2013.
His party burst onto the scene, winning 28 seats in Delhi and eventually formed a government with help from the Congress party.
But he was in office for only 49 days before he resigned amid a row over an anti-corruption bill. Last May, Mr Kejriwal sprang a surprise by standing against Narendra Modi in the general election.
He put up candidates in more than 400 constituencies and claimed that his party would win at least 100 seats, but the result was a disaster. Mr Modi trounced Mr Kejriwal in Varanasi, winning by more than 300,000 votes. The AAP won just four seats and 96% of their candidates lost their deposits.
But nine months on, he bounced back, taking Delhi by storm.
Mr Kejriwal's election campaign focused on Delhi's development needs - he promised water, electricity, housing for the poor, security for women and action against corruption.
He also apologised to the voters for abandoning power last time and promised to serve a full term if voted back to power.
Backroom organiser
Mr Kejriwal won the Ramon Magsaysay award for emergent leadership, widely described as Asia's Nobel Prize, for social work and initiatives to fight corruption in 2006.
He broke off from his mentor, veteran campaigner Anna Hazare, to formally enter politics in 2012.
While launching his political party on 2 October 2012, he told supporters they would fight against the culture of "bribe-taking".
Explaining the need for a new party, he said India was "being sold and all parties are guilty".
Born in 1968 in the town of Hisar in the northern state of Haryana to middle-class parents, Mr Kejriwal graduated from the prestigious Indian Institute of Technology (IIT) in Kharagpur with a degree in mechanical engineering.
After a brief stint working with the private sector Tata group, he joined the civil services in 1992 as a revenue officer.
He took voluntary retirement from his job in 2006 to work full time promoting transparency in government and creating awareness about the Right to Information movement.
According to a report in the Caravan magazine, Mr Kejriwal has "no personal story of extraordinary suffering at the hands of corruption".
"What led him to quit his job as a senior bureaucrat and become an activist wasn't anger or bitterness; it was the loss of his own faith in government after a decade in its service," the magazine says.
During his administration's brief time in office, he unveiled a series of headline-grabbing initiatives, including an anti-corruption hotline to help people deal with demands for bribes by government workers.
After resigning and spending the last year in the political wilderness, Mr Kejriwal is now back in the limelight.
It is a remarkable turnaround for a politician seen as an upstart, but who now has the support of large sections of the electorate, especially the poor and working class.