India Trinamool Congress protests against reforms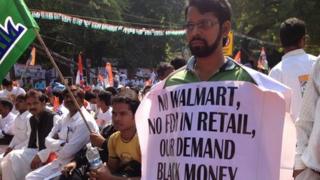 A key regional party that pulled out of India's ruling coalition over its decision to open the retail sector to global supermarket chains has staged a rally in Delhi.
The protest by about 1,000 people is the first such demonstration in the capital by the Trinamool Congress, led by Mamata Banerjee.
Last month the party's six ministers quit the Congress party-led coalition.
Its 19 MPs no longer support the coalition in parliament.
However, correspondents say the government's majority is not at immediate risk.
It still has the support of more than 300 MPs and needs 272 to stay in power.
'Solidarity'
At the rally in Delhi, Ms Banerjee promised further protests. She said she would consider teaming up with other political parties to force a no-confidence motion in the government of Prime Minister Manmohan Singh, the BBC's Divya Arya reports.
Party MP KD Singh told reporters that the Delhi protest was to show "solidarity with the ordinary people who have been hurt by the reforms".
Ms Banerjee, who is also the chief minister of West Bengal state and a powerful regional leader, said the party would protest to persuade the government to reconsider the reforms.
Her supporters also blame the central government for a 14% rise in the price of diesel last month and for similar rises in the price of cooking gas.
The government says that the changes are necessary to revive the economy.
Under the government's proposal, global firms - such as Walmart and Tesco - will be able to buy up to a 51% stake in multi-brand retailers in India.
Multinational retailers already have outlets in India, but at present they can sell only to smaller retailers. This decision will allow them to sell directly to Indian consumers.