Telangana: Fresh strike over new India state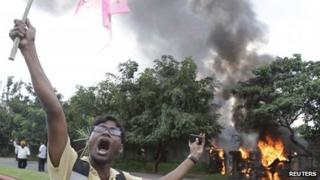 A strike in favour of a new state has hit businesses and public transport in the Telangana region of southern India's Andhra Pradesh state.
The strike follows clashes between pro-Telangana activists and police in the state capital Hyderabad on Sunday.
Andhra Pradesh saw violent protests for and against the proposal in 2010.
With a population of 40 million, the proposed state comprises of 10 of Andhra Pradesh's 23 districts including Hyderabad, India's sixth biggest city.
There has been a 50-year-old campaign for a separate Telangana, as people in the region believe they have been neglected by successive governments.
Bus services were paralysed and shops, schools and businesses remained closed in most of the Telangana region on Monday.
There was a mixed response to the strike in Hyderabad city, says the BBC's Omer Farooq.
There were clashes between protesters and the police on the Osmania University campus, which has become the centre of the Telangana movement.
'Prohibited areas'
Pro-Telangana activists said Monday's strike was to protest against police restrictions on their movements.
The police said thousands of activists violated restraining orders on Sunday to join a march in support of the new state.
When they were stopped by the police, they threw stones and tried to remove the barricades. The police lobbed tear gas shells to disperse the crowds.
"Protesters were directionless on their way to the venue. They tried to proceed through prohibited areas," senior police official SA Huda said.
The police said 18 policemen and five protestors were injured in the clashes. A number of police vehicles were damaged.
Opponents of the move are unhappy that Hyderabad, home to many major information technology and pharmaceutical companies, could become Telangana's new capital.
The final decision on a new state lies with the Indian parliament. But the state assembly must also pass a resolution approving its creation.
Deep divisions have emerged over the Telangana issue in the past three years.
In December 2009, India's Congress party-led government promised that the new state would be formed, but later said more talks were needed.
The announcement prompted widespread protests in the state, and a student committed suicide in support of the formation of Telangana.