India WWF report says four leopards killed every week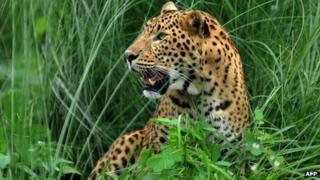 At least four leopards are poached every week in India, according to a new study by a group of conservationists.
The report by Traffic documented 420 seizures of leopard skins, bones and body parts between 2001 and 2010.
It says the northern state of Uttarakhand is the biggest source for leopard parts, while Delhi is the hub of illegal trade.
Leopards are a protected species in India and all international commercial trade in their body parts is banned.
Wildlife experts say there are no reliable population estimates of these big cats in India, but according to rough estimates, there are about 10,000 leopards in the country.
The report - Illuminating the Blind Spot: A study on illegal trade in Leopard parts in India - which was released on Friday, estimates that around 2,294 leopards have been trafficked in India during the 10-year span.
The study says that most of the leopard parts are smuggled to Asian countries like China, Burma and Laos through India's porous border with Nepal.
It says that unless India comes up with a strategy to stop rampant poaching and trade in leopard parts urgently, the population of the big cat will decline further.
"Any increase in external market demand could easily lead to a decimation of leopard numbers in India," said Ravi Singh of the World Wide Fund for Nature (WWF) which was involved in the study.
"The level of threat to leopards in the country has previously been unrecognised, and has fallen into our collective 'blind spot'," said Dr Rashid Raza, the lead author of the study.
"The number of leopards in many of their habitats has been constantly declining because the forests have been depleting, their prey has been wiped out and the increasing human-animal conflict," he said.
The report recommends that India set up a task force to stop poaching and trade in leopard body parts, and establish better regional cooperation with transit and market countries.
The leopard skin is prized for its fur coat and its bones are sometimes used in traditional Asian medicines.