India probes attacks on rhinos in Assam state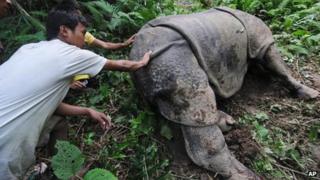 India's top federal investigation agency will probe a series of attacks on rare one-horned rhinos by suspected poachers in the flood-hit state of Assam, a senior minister has said.
Jayanthi Natarajan said the probe should be completed in a week.
Three rhinos have been attacked by poachers outside the Kaziranga national park, which has been inundated by flood waters this week, reports say.
One of the animals died, while the other two are battling for life.
The floods in the state have forced two million to flee their homes and killed 18 people, disaster officials say.
Much of Kaziranga national park, home to nearly two-thirds of the world's remaining one-horned rhinos, has been flooded for the second time in three months after heavy rains.
Two rhinos and at least a dozen other animals, mostly deer, have drowned in the flood waters.
On Thursday, two rhinos that moved to higher ground to escape the deluge were shot at by poachers in two separate incidents, reports say.
The poachers escaped with the animal horns.
One of the rhinos was found dead, while the other was found bleeding profusely. Vets are desperately trying to save the stricken animal.
Earlier this week a rhino was wounded when shot and had its horn cut off after it wandered out of the park.
Ms Natarajan, who is India's environment minister, has ordered a federal probe into the incidents.
"I am shocked and distressed by the callous exploitation by unscrupulous poachers of the natural disaster of floods and of helpless animals fleeing to find safe shelter," she said.
"I am determined to ensure that these criminals are brought to justice and that such incidents do not recur in future."