India court says auctioning natural assets not mandatory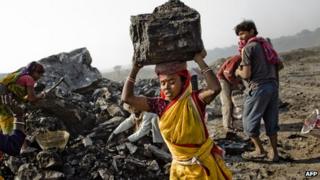 India's Supreme Court has said it was not necessary for the government to always auction natural resources.
The court said that if a natural resource was going to benefit the poor, then it did not have to be auctioned.
But, if it was to be given to private industry for commercial exploitation, then it must be auctioned, it added.
The court was clarifying its earlier order which said the government must follow a competitive bidding process for allocating all national resources.
The court had made the observation in February while cancelling 122 telecommunications licences awarded to companies in 2008.
The licences were issued by former telecoms minister A Raja, who is accused of mis-selling bandwidth in what has been called India's biggest corruption scandal. Mr Raja, who is currently on trial for fraud, denies wrongdoing.
Government auditors say the scandal cost the country about $40bn (£24.5bn).
The government had challenged the February ruling, saying it was "faulty".
On Thursday, the five-judge bench ruled that public good must take precedence over maximising revenue while allocating natural resources.
The court said its earlier order that natural resources must be auctioned was applicable only to telecoms spectrum used for 2G services.
For other natural resources, the court said, it would depend on what the resource was and why it was being allocated.
In recent months, India's government has been criticised for corruption in the allocation of iron ore mines and coalfields to private companies.
Government auditors say the country has lost tens of billions of dollars by mis-selling or wrongly allocating precious natural resources.