Political crisis in India's Maharashtra state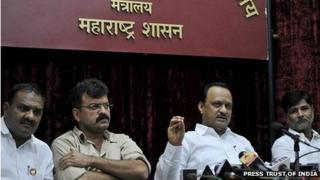 The Congress party-led coalition government in India's Maharashtra state is facing a crisis after the resignation of the deputy chief minister over allegations of a scandal.
Ajit Pawar of Congress ally the Nationalist Congress Party resigned following media reports on the scandal.
He has denied the allegations and said he was ready to face an investigation.
Reports say 20 other NCP ministers had offered to quit after Mr Pawar's resignation.
The Congress and NCP have been in power for 13 years in the western state, with 144 legislators between them in the 288-member assembly.
Mr Pawar is the nephew of Sharad Pawar, a powerful minister in the federal government, and the leader of the NCP.
He resigned as deputy chief minister on Tuesday evening after media reports of alleged irregularities in irrigation projects involving millions of dollars when he was the water resources minister between 1999 and 2009.
"I am quitting to ensure an impartial probe in all the allegations against me," Mr Pawar told reporters.
Reports say Chief Minister Prithviraj Chavan, who belongs to the Congress party, is yet to accept the resignation, and will talk to the leaders of his party and the NCP before taking a decision.
Media reports say 20 other NCP ministers have offered to quit in a show of solidarity for Mr Pawar.
Correspondents say the relations between the two ruling parties have been strained for the past few months.
The Congress party, however, played down the resignation.
"The NCP is our ally and we are competent enough to solve our problems," party spokesman Rashid Alvi said.