The trouble with political financing in India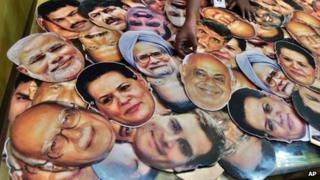 The more things change, the more they remain the same.
As a recent audit by election watchdog Association For Democratic Reforms (ADR) shows, financing of political parties in India continues to be opaque despite the fact that they are forced to declare their incomes.
Parties must submit details of contributions received in excess of 20,000 rupees ($365, £225) to election authorities. They can also claim tax exemptions on their earnings if they keep proper books of accounts and submit a list of donations of more than 20,000 rupees to election authorities.
Using the right to information law, ADR sought details from six national parties and 36 regional parties about their financing between 2003 and 2011.
This is what they found:
The five top parties mopped up $755m (£478m) in earnings between 2004 and 2011, most of it coming from donations and voluntary contributions.
The ruling Congress expectedly topped the list of earners, followed by the main opposition BJP. Next came the regional heavyweights, the Bahujan Samaj Party (BSP) and the Samajwadi Party (SP) and finally the Communist Party of India (Marxist).
But what's really interesting is that less than 20% of their earnings on average came from officially declared donations - those above 20,000 rupees.
Only 11.89% of Congress's income and 22.76% of the BJP's income between 2009 and 2011 came from named donors.
The BSP, led by the Dalit leader Mayawati, declared it had not received any donations above 20,000 rupees on its earnings of $31m during 2009-2010.
Only the Communist Party of India (CPI), the other Marxist party, declared that over half of its income (57%) came from named donors.
When the ADR sought information from the political parties on their biggest donors, only the CPI gave the information.
The Congress party, it says, replied that it did not come under the right to information law.
The BJP did not reply.
The Nationalist Congress Party (NCP), an ally of the ruling coalition, said it "didn't have enough manpower to provide the information".
If political parties are not declaring the sources of 80% of their incomes, something is still rotten with the state of political financing in India.
Professor Jagdeep Chhokar, a founding member of the ADR, believes most donors must be paying by cash using illicit money - or "black money" as it is called in India - on which they pay no taxes.
"The suspicion is that people indulging in wrongful businesses and tax evaders are the ones who donate the most to political parties." he says.
All this, the watchdog says, "brings to the fore the biggest farce that our democracy is plagued with - the opaque functioning of political parties with no space for engagement with the citizens".
Since 1996, political parties have been forced to declare their incomes, bringing in some transparency in political financing. Both donors - companies and individuals - and political parties can take advantage of income tax breaks.
But, as MV Rajeev Gowda and E Sridharan argue in a paper on political financing, it is not clear whether the incentive of tax exemption "outweighs the possible disincentive created by loss of anonymity" for the donor.
The donors, as they say, fear retribution from other parties to whom they have not contributed.
The country's campaign finance laws have tended to have "unintended, counter-productive, and perverse effects on the electoral system," say Mr Gowda and Mr Sridharan.
Clearly, India's political financing needs urgent reforms.
Analysts like Mr Gowda and Mr Sridharan suggest that parties should rely more on small donors which will make them more democratic and transparent.
In addition they should have access to public funding, auditing of sources of income and transparent donor identities.
These views may prove contentious. But what is not in dispute however is that people need to know more about how the parties they vote for are being funded.