Kejriwal: India anti-corruption campaign split 'sad'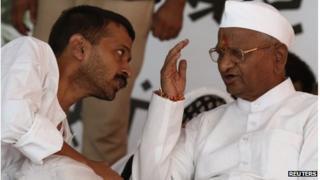 The break-up of the team that led India's anti-corruption campaign is "shocking and unfortunate", a key activist has said.
Campaigner Anna Hazare has parted ways with his closest aide, Arvind Kejriwal, over plans to enter politics.
Mr Kejriwal said his group would continue to "seek Mr Hazare's blessings" despite the rift.
Mr Hazare said he would not be a part of Mr Kejriwal's plans to form a political party to fight corruption.
Instead, he is demanding an independent ombudsman to prosecute politicians and civil servants suspected of corruption.
The idea was passed by the lower house of parliament in the form of the Lokpal bill in December 2011.
But the upper house adjourned amid chaos without passing the controversial legislation.
Mr Hazare told reporters on Wednesday there was "nothing wrong with fielding a political party but I will not be a part of it".
In his first remarks since this week's split, Mr Kejriwal said: "We respect Anna Hazare as he is our guru and father. [The split is] shocking, unbelievable, unfortunate and sad".
A 12-day fast by Mr Hazare a year ago almost brought the government to its knees and led to the introduction of the Lokpal bill in parliament.
Mr Hazare started another hunger strike in December but called it off and threatened instead to launch a campaign of civil disobedience that would fill the country's jails.
The next general election in India is due to be held by the summer of 2014.