India Trinamool Congress party resigns from the government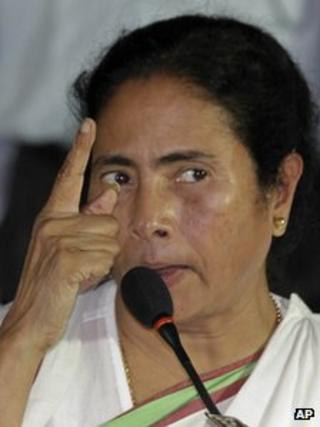 A key regional party has pulled out of India's ruling coalition over its decision to open the retail sector to global supermarket chains.
Six ministers belonging to the Trinamool Congress party led by Mamata Banerjee formally resigned from the coalition led by the Congress Party.
Her 19 MPs will no longer back the coalition in parliament.
However, correspondents say the government's majority in parliament is not at immediate risk.
It still has the support of more than 300 MPs and needs 272 to stay in power.
The resignations were submitted to Prime Minister Manmohan Singh before the ministers called on President Pranab Mukherjee.
The Trinamool Congress first announced its intention to resign on Tuesday.
"We have submitted our resignation letters to the prime minister and handed over a letter of withdrawal of support to the government to the president," MP Saugata Roy told reporters.
He said the president had accepted their letter.
Mr Roy refused to elaborate what transpired at their meeting with Mr Singh. "What the PM said or did not say to us is confidential information," he said.
Analysts say Ms Banerjee's withdrawal leaves the government more vulnerable to the demands of its other allies, most of which are strongly against foreign investment in the retail sector.
Earlier, the government said it faced no threat to its stability following the withdrawal. "We had enough friends yesterday, we have enough friends today," Finance Minister P Chidambaram said.
Ministers say that the reforms are necessary to revive the economy.
Under the government's proposal, global firms - such as Walmart and Tesco - will be able to buy up to a 51% stake in multi-brand retailers in India.
Multinational retailers already have outlets in India, but at present they can sell only to smaller retailers. This decision allows them to sell directly to Indian consumers.
Mr Singh argues that the reforms help "strengthen our growth process and generate employment in these difficult times".
On Thursday opposition parties and trade unions staged a country-wide strike against the changes.