India anti-corruption team splits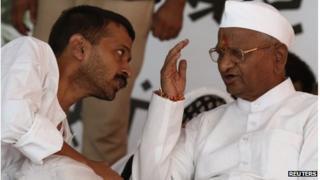 The team which led India's anti-corruption campaign has broken up, with activist Anna Hazare parting ways with his aide over plans to enter politics.
Mr Hazare said he would not be a part of Arvind Kejriwal's plans to form a political party to fight corruption.
Instead, he is demanding an independent ombudsman to prosecute politicians and civil servants suspected of corruption.
The idea was passed by the lower house of parliament in the form of the Lokpal bill in December 2011.
But the upper house adjourned amid chaos without passing the controversial legislation.
Mr Hazare told reporters on Wednesday there was "nothing wrong with fielding a political party but I will not be a part of it".
"It has my blessings and we will work towards the common goal of eradicating corruption."
Mr Hazare said the political party, planned by Mr Kejriwal and his supporters, "cannot use my photo or name".
"It is our misfortune that despite our best efforts the team is breaking up."
A 12-day fast by Mr Hazare a year ago almost brought the government to its knees and led to the introduction of the Lokpal bill in parliament.
He started another hunger strike in December but called it off and threatened instead to launch a campaign of civil disobedience that would fill the country's jails.
The next general election in India is due to be held by the summer of 2014.