India successfully launches Agni-IV long-range missile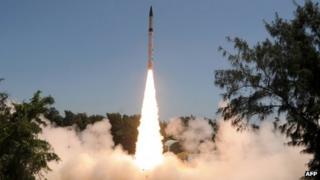 India has successfully test fired a nuclear-capable strategic missile with a range of about 4,000km (2485 miles).
The Agni-IV is India's second longest-range missile. The launch comes two days after Pakistan tested a missile.
It was launched from a site off India's east coast and was guided to its target by a high performance computer.
In April, India unveiled its Agni-V long-range missile, which put it in an elite nuclear club with the US, UK, Russia, China and France.
Analysts say the Agni (meaning "fire" in Hindi and Sanskrit) missile family is to be the cornerstone of India's missile-based nuclear deterrent.
The missiles are among the country's most sophisticated weapons.