Diplomatic bag contents revealed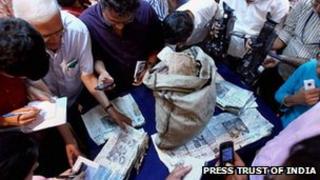 The contents of an Indian diplomatic bag found in the French Alps, close to where an Air India plane crashed 46 years ago, have been revealed.
The jute bag, weighing about 9kg (19.8lb), contained newspapers, calendars and a personal letter.
A mountain rescue worker and his neighbour recovered the jute bag after some tourists spotted it on a glacier.
The Air India plane flying from Mumbai to New York crashed January 24 1966. All 117 people on board died.
Among the passengers was top nuclear scientist Homi J Bhabha, known as the "father" of India's nuclear programme.
The bag has been opened in the Indian capital, Delhi, and copies of Hindustan Times, The Statesman and The Hindu newspapers, 1966 calendars and a letter addressed to the then Indian consul general in New York CJK Menon have been recovered.
The bag has markings saying "Diplomatic mail" and "Ministry of External Affairs", as the foreign ministry is called in India and did not have any classified material in it.
It was recovered by mountain rescue worker Arnaud Christmann and his neighbour Jules Berger on 21 August from Mont Blanc and handed over to the police in Chamonix town at the base of the mountain.