Congress party meets over India ally pullout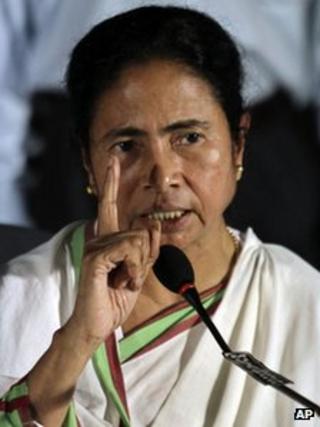 India's ruling Congress party has met to discuss a key ally's withdrawal from the government over plans to open the retail sector to global supermarket chains and other reforms.
The Trinamool Congress party led by Mamata Banerjee has said that its six ministers will resign from the coalition on Friday.
Ms Banerjee said her 19 MPs would not back the coalition in parliament.
Observers say the coalition's majority in parliament is not at immediate risk.
It still has the support of more than 300 MPs and needs 272 to stay in power.
Congress chief Sonia Gandhi met PM Manmohan Singh and other party leaders in Delhi to discuss the Trinamool Congress move.
After the meeting, the party said it had asked the governments in Congress-ruled states to provide more subsidised cooking gas, which is also one of Ms Banerjee's demands. Her party is in power in the state of West Bengal.
Reports say the meeting decided there would be no rolling back of the supermarket reforms.
Correspondents say the fate of the government will largely depend now on its other regional allies - the Samajwadi Party and Bahujan Samaj Party.
The two parties - rivals in the northern state of Uttar Pradesh - have more than 40 MPs between them and have been supporting the government without joining it.
Congress could continue to run a minority government with their support, or could even offer them ministerial posts, correspondents say.
The BBC's Amitabha Bhattasali in Calcutta says that Ms Banerjee's move on Tuesday evening was made in part because her bedrock support in West Bengal - the lower-middle classes - is furious about the possibility of foreign investment taking away badly-needed jobs.
Our correspondent says her supporters also blame the central government for a 14% rise in the price of diesel earlier this month and for similar rises in the price of cooking gas.
Beset by corruption allegations and falling growth figures, the government hopes its supermarket plan will revive both the economy and its own fortunes, correspondents say.
But small shops fear they will be put out of business, and opposition parties have called for a strike on Thursday in protest at the plan. There is also unease among other coalition partners.