Mumbai attacker Qasab appeals for mercy to India president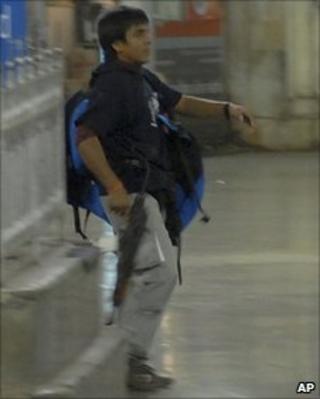 Pakistani national Mohammad Ajmal Amir Qasab, on death row in India for his role in the 2008 Mumbai attacks, has appealed for mercy to the president.
His mercy petition was sent to President Pranab Mukherjee's office by the administration of the Arthur Road jail where he is lodged.
India's Supreme Court upheld his death sentence last month. He was convicted of murder and other crimes in May 2010.
The November 2008 attacks claimed 166 lives. Nine gunmen were also killed.
The 60-hour siege of Mumbai began on 26 November 2008, targeting luxury hotels, the main railway station and a Jewish cultural centre.
Qasab and an accomplice carried out the assault on the station, killing 52 people.
There is now huge pressure for the death sentence to be carried out soon with the main opposition Bharatiya Janata Party (BJP) saying there should be "no delay" in executing Qasab.
But, legal experts say it could still be months before Qasab's sentence can be carried out.
Correspondents say although India retains capital punishment, it is rarely carried out. Since 1995 only one person has been executed, through death by hanging.