Midnight's Children evokes mixed responses in Toronto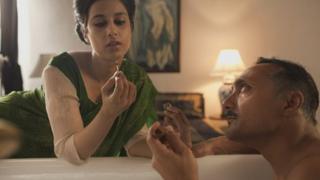 Oscar-nominated Indian-Canadian filmmaker Deepa Mehta's long-awaited adaptation of Sir Salman Rushdie's Booker Prize-winning novel Midnight's Children has evoked mixed critical reactions at the ongoing 37th Toronto International Film Festival, writes film critic Saibal Chatterjee.
The response of the general public at the Roy Thomson Hall in central Toronto was enthusiastic.
The festival, which runs until 16 September, hosted a gala presentation of the two-and-a-half-hour film earlier this month.
"The standing ovation was truly encouraging. It seemed to go on forever," actor Ronit Roy, who plays protagonist Saleem's father Ahmed Sinai in the film, told this correspondent after the screening.
North American critics, however, were less than impressed.
Toronto's The Globe and Mail wrote: "Thanks to Rushdie's own screenplay, and Deepa Mehta's direction, Midnight's Children is now a film - it's just not an especially good film."
The daily's reviewer said: "Competent, yes, featuring a vast and solid cast along with multiple locations and abundant plot. But that's part of the problem. With the book's wryly witty tone mostly gone, all that's left is plot - diminished yet recitative, like episodic milestones duly checked off on a laboured journey."
'Too reverential'
The Globe and Mail concluded: "There's scant flow and consequently, from us, scant engagement. We look at the unfolding spectacle with our eyes wide but our emotions closed - so much to see, so little to feel."
Midnight's Children had its world premiere at the Telluride Film Festival before arriving in Toronto, Mehta's hometown.
The Hollywood Reporter too gave the film an average review.
"Nothing less than an epic, panoramic look at the history of India and Pakistan over a 50-year period, the film is ambitious and often sumptuous to watch but not always dramatically satisfying," it said.
"Perhaps one problem is that the film is too reverential toward its literary source, struggling to incorporate most of Rushdie's teeming subplots. The result is that it becomes too difficult to find a narrative focus," it added.
Midnight's Children is indeed a sprawling and often quite engaging cinematic rendition of the 600-page novel - never an easy task even if the author himself has scripted the screenplay.
Sir Salman is also the film's off-screen narrator, a role in which he does a remarkably good job, adding a layer of wit and insight that holds Midnight's Children together for the most part.
The picaresque tale of two boys who are born at the precise moment that India shrugged off the British yoke in 1947 and are, therefore, "handcuffed to history" and to each other's fate has been condensed to fit the film's running time.
The acting is uniformly good, a fact that helps Midnight's Children paper over some of the inevitable creases caused by the need for narrative ellipsis to capture the sweep and spectrum of the written text.
The huge cast of Midnight's Children includes Shabana Azmi, Anupam Kher, Seema Biswas, Rahul Bose, Charles Dance, Shriya Saran and Shahana Goswami, besides newcomer Satya Bhabha as Saleem Sinai and southern Indian star Siddharth as Shiva.
'Right actors'
At a moderated conversation between Mehta and Sir Salman in the previous edition of the Toronto International Film Festival, the two key figures behind the film revealed that they had originally approached A-list Bollywood stars for the key roles.
They abandoned the plan when the demands, monetary and otherwise, of the Mumbai actors went from the ridiculous to the bizarre.
"It didn't work out, so we opted to cast actors that were right rather than those that were big," Mehta said last year.
Midnight's Children has yet to find a distributor in the country that it is about, so the film's public relations machinery kept the Indian press at bay during the promotional activities in Toronto.
The film has the backing of Telefilm Canada and will be released in this country by Hussain Amarshi's Mongrel Media, which was the key backer of Mehta's controversial 2005 film, Water.
Water was originally planned to be shot in India in 2000 but both the location and the time of production had to be altered after Hindu hardliners disrupted the shoot in Varanasi.
The film was eventually filmed in Sri Lanka.
Midnight's Children, too, was shot in Sri Lanka. "I did not want any controversy," Mehta told reporters.
But reports suggest that the shoot was not entirely smooth.
The foreign minister of Iran appealed to Sri Lanka not to allow an adaptation of Sir Salman's novel and permission was withdrawn.
Fortunately, the ban lasted only three days and filming went ahead without any further incident.
The film's Rushdie connection and the barely disguised potshots that it takes at former Indian Prime Minister Indira Gandhi will make it difficult for it to get past India's current political dispensation as well as its right-wing forces.
It is unlikely that Midnight's Children will open in India anytime soon.