Goa iron mines shut over scandal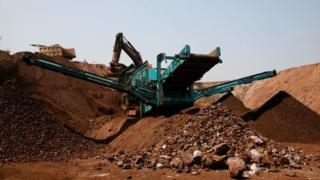 All 90 iron ore mines in the western Indian state of Goa have been shut down after a government-backed inquiry said they were illegal and lacked environmental permission to operate.
The inquiry, headed by retired judge MB Shah, said illegal mining had cost more than $6bn (£3.75bn) in five years.
The authorities ordered all mines to suspend operations from Tuesday.
But they said mines which had proper documentation would be allowed to resume operations soon.
Correspondents say Goa's $4.5bn (£2.8bn) a year iron-ore industry has been mired in controversies for some time.
In his report last week, Justice Shah blamed the state and central governments for the scandal in addition to private miners.
They had plundered the natural resource and facilitated an "unrestricted, unchecked and unregulated export of iron ore to China", he said.
India is the third-largest exporter of iron ore in the world, but the sector has been rocked by allegations of widespread illegal mining.
A ban on iron ore mining was imposed in the southern state of Karnataka last year, while in Goa many licences have been cancelled.
A report last year alleged that nearly half the iron ore exported from Goa was illegally mined.
The ban is unlikely to have any immediate impact as most mines in Goa are not operating at the moment since it is the monsoon season.
Mining in the state normally resumes at the end of September.