India doctors in uterus removal scandal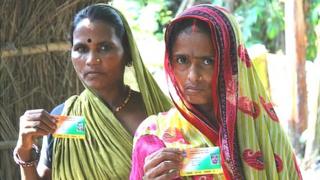 A number of private hospitals and nursing homes in India's Bihar state are facing allegations of wrongfully removing the wombs of hundreds of women so they could claim government insurance money. The BBC Hindi's Manikant Thakur meets some of the victims.
When Safina Khatun, 35, approached a private hospital about a nagging pain in her abdomen, the doctors in Samastipur town suggested removing her uterus.
She did not have to worry about the medical bills, thanks to a federal government medical insurance scheme for the poor.
But, despite the surgery the pain in Safina's abdomen refused to subside. And the real shock came when she learnt that her uterus was intact but the doctors had taken out one of her fallopian tubes.
"The lady doctor told me that my uterus needed to be removed as it had swollen. Strangely, when the district magistrate had me re-examined, it turned out that the uterus had not been taken out at all," Safina told the BBC.
"My wife is not the only person who has been cheated, there are so many other women who have faced such cruelty. I am not going to let these people go scot-free," said her angry husband Mohammad Allahuddin.
Safina is among the thousands of poor women in Bihar who have become victims of what is being called the "uterus scam" and is believed to run into millions of dollars.
Figures gathered from different districts by the BBC Hindi service show that in the past two years private doctors performed hysterectomy on at least 50,000 women.
Although most of these surgeries were necessary, the authorities admit that many of them were unnecessary and in some case, no surgeries were carried out while bills were fudged to claim the insurance money.
Alert administrator
The scandal came to light when the district magistrate of Samastipur Kundan Kumar organised special medical camps to re-examine the women after "receiving complaints of bogus or unnecessary surgeries".
A report prepared by the district administration based on the medical examination of 2,606 women confirmed that perfectly healthy uteruses of 316 young women were removed.
In some cases, it was found that the women just had a superficial cut on their skin while their internal organs were intact, but the insurance claims were made for surgeries.
Safina Khatun is among the 34 women who were told they were undergoing hysterectomy, but later found out that their wombs were intact.
The report highlights the dubious connection between private hospitals, insurance companies, government officials and even some of the beneficiaries.
They were carried out under a national insurance scheme - the Rashtriya Swasthya Beema Yojna (RSBY) - whereby private hospitals could claim up to 30,000 rupees ($554, £352) for treating patients who cannot afford expensive procedures.
However, owners of private nursing homes vehemently deny any wrongdoing.
"Corruption is possible only when all stakeholders are involved; it is just not possible for one party involved in the medical insurance scheme to do bungling," says Dr Rati Raman Jha of Samastipur's Mala Nursing Home.
Another doctor, Mahesh Thakur, blames the district administration for "maligning the image of doctors by giving unverified information to the press".
Poor advice
Government figures reveal that in the past two years, 800 hospitals listed under the RSBY scheme were paid 3.45bn rupees ($62m, £40.1m) as insurance claim.
But Bihar's Labour Minister Janardan Singh Sigriwal insists that it cannot be described as a scam because "the amount of money involved is not huge".
"The government is investigating the allegations of bogus insurance claims," he said.
According to government figures, Chief Minister Nitish Kumar's home district Nalanda - with 6,653 hysterectomies - tops the list of districts with the highest number of womb removal surgeries.
Ranjan Devi, 26, of Meghi village in Nalanda, is one such woman who wanted to have a tubectomy operation to prevent further pregnancy after the birth of her third child, but ended up losing her uterus.
"The lady doctor happily agreed to remove my uterus. But now I am told that a simple tubectomy operation would have served the purpose," she told the BBC.
Added her mother-in-law: "Everyone knows doctors are only interested in earning money. All they want is 15 to 20 people coming in for surgery every day. They ill advised my daughter-in-law and destroyed her womb."
As Ranjan Devi narrated her story, other women from the village gathered around to share their woes.
They said there was a network of middlemen who "convinced" people to undergo a surgery and took them to the listed nursing homes in return for 500 rupees ($9; £5.8).
Realising the magnitude of the scam, the state government has now asked officials in all 38 districts to investigate the allegations of irregularities and any possible criminal culpability of hospitals, insurance companies and officials.
The state Human Rights Commission has also taken the allegations seriously.
"Clearly, removing uteruses in this manner is a violation of an individual's human rights, therefore, I have written to the labour and health departments to investigate the allegations and let us know the facts," commission chairman Justice SN Jha told the BBC.