Pakistani Hindus say will not return from India visit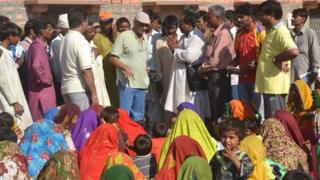 A group of 171 Pakistani Hindus, who arrived in India on Sunday on pilgrim visas, say they will not return.
The group arrived in Jodhpur city in the western state of Rajasthan on the Thar Express train which travels between India and Pakistan.
The arrivals are the latest in a series of minority Hindus fleeing to India alleging persecution in Pakistan.
Islamabad has repeatedly said its Hindu minority community is safe and reports of their leaving are exaggerated.
The latest group includes at least 32 women and children and they all belong to the tribal Bheel community.
The Pakistani Hindus narrated their ordeal as relatives gathered at the Jodhpur railway station to receive them.
"I lost my father recently and did not get a place to perform his last rites, we were denied wherever we went. You cannot even imagine our pain," said the leader of group who did not wish be identified.
"We will not return to Pakistan, you can kill us here, but we do not want to go back. Every day we face persecution and our troubles have doubled with the rise of Islamic extremism," he added.
The group is being helped by campaign group Seemant Lok Sangthan (SLS) which has sought refugee status for these Hindus.
The SLS, which provided them food and shelter on arrival in Jodhpur, said this batch had come from the southern province of Sindh.
SLS president Hindu Singh Sodha they had requested Indian Foreign Minister SM Krishna to raise the issue with Pakistan during his visit to Islamabad and Lahore at the weekend.
In 2005, India granted citizenship to 13,000 Pakistani Hindus.
The Rajasthan administration recently announced it would grant citizenship to those who had completed seven years in India.